Commercial Interior Design Australia
The design and layout of your office space play an important role in how your employees perform. In fact, how a workplace looks, feels and functions all contribute to employees' overall productivity and wellbeing. We know this is true because the efficiency of an office can largely be determined using data. It's also why we've integrated data into our design process, piecing together scientific and human-led insights to create workplaces that people want to be in.
At Cachet Group, we offer a dynamic commercial interior design solution to accomplish these goals. Our in-house Interior Designers, Project Managers and Construction Teams work in tandem with your stakeholders to gather insights about your culture, employees and business goals. We use this information to design and construct a breathtaking, efficient workplace. Our office fitouts go beyond beautiful commercial design by contributing to a healthy, creative and dynamic culture in a way that works for everyone.
Commercial Interior Design with Cachet Group
We've developed a streamlined design and construct process that starts with in-depth workshopping to reveal a personalised design that's brought to life through our robust Construction and Site Management — ending with quality maintenance and modification services. Our
Design
,
Construct
and
Care
approach to an office fitout means that no detail is omitted and ensures access to continued support even after we've completed the project.
Our dedicated team takes care of: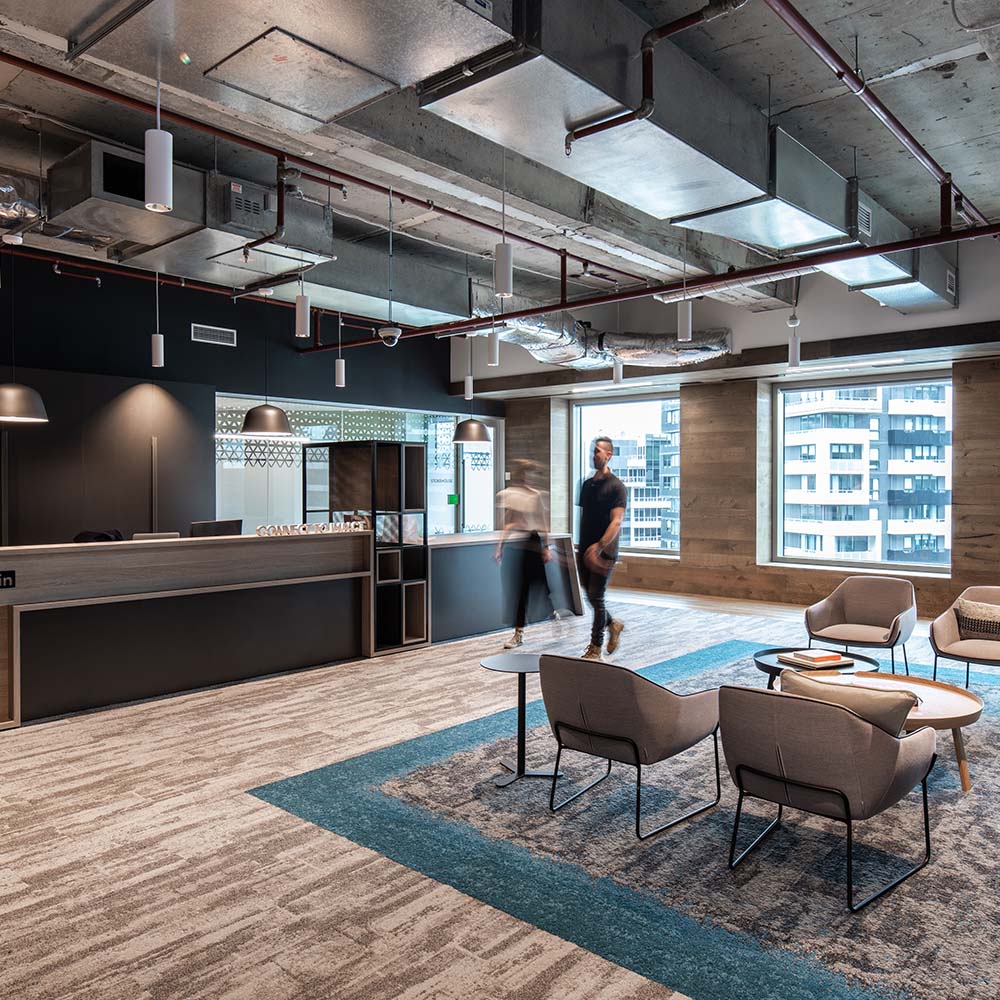 Maintenance and modification
At the very beginning of your workplace design (or commercial interior) project, we allocate an experienced Project Manager and Interior Designer who are dedicated to you and your team throughout the entirety of the project. They'll immerse themselves in the project early in the process, so when it's time to get to work, they'll have a holistic understanding of your needs. Plus, there's no second guessing about who to contact.
When your office design is complete, we offer our full lifecycle support for your new workplace through our Cachet Care Programme. When you're up and running in your new, personalised office space, we'll continue to monitor its performance and optimise the fitout to ensure that it's adapting and evolving to your needs. We'll be happy when your people are happy.
Contact us to improve your space today
Personalised commercial interiors for any type of business
Every organisation has a unique set of needs, and we understand that. Therefore, every work environment needs to be different to best cater to those requirements. That's why personalisation is an inherent part of our process. We make it our mission to design a commercial space that serves your brand and people — not just an abstract idea of what we think they are.
While these design elements are meaningful for every type of business, they're particularly so for larger organisations. Why? Because the more employees you have, the more difficult it becomes to foster employee wellbeing.
Here aRE just a few things that we consider when designing and constructing your space:
An office should be a comfortable place, because no one does their best work in an incommodious environment. Standing desks, lounge chairs and quiet pods, like the ones seen at our Akcelo project, are all great examples of optimising for comfort. We'll get to the bottom of what is best for your team to thrive, from furniture to features, to ensure that your people have a pleasant place to conduct business.
Calm encompasses everything from accommodating for extra storage solutions thereby concealing clutter, streamlining foot traffic through simply delineating floor finishes and ceiling finishes — like we did here — and providing effective breakout areas that let employees decompress and disconnect. Once you have an office that works for your employees, it should naturally fall into harmony — and amidst that harmony, people work better.
Space planning is a big part of thoughtful office interior design. The way a workspace is divided can have a direct impact on productivity. For example, placing workspaces well away from window glazing to avoid distractions, or situating a tea point away from the front of house to ensure the best first impressions for clients visiting the office. Our data-driven, yet human approach to office fitouts will help inform our decision on how to best organise your new space.
Colour is a great example of a subtle but significant design feature that can tremendously influence how people operate in or feel about an office. And, playing with colour can inspire creativity. Brand-appropriate, enjoyable colour schemes are the name of the game — and they're fully customisable.
Check out our most recent projects
How a thoughtfully designed commercial space is beneficial for your employees
An astute office fitout  — designed using employee behavioural data, gathered by Cachet through surveys and utilisation studies and in conjunction with human creativity — offers so much potential. Modern office spaces must strike a balance between agility and enjoyment, and we can help you achieve that.
Employees need distinct areas where they can collaborate, focus and relax. Beyond that, eco-friendliness and access to viable technology are among some of the most important aspects of a workspace that people are growing increasingly conscious of and expect from their employers.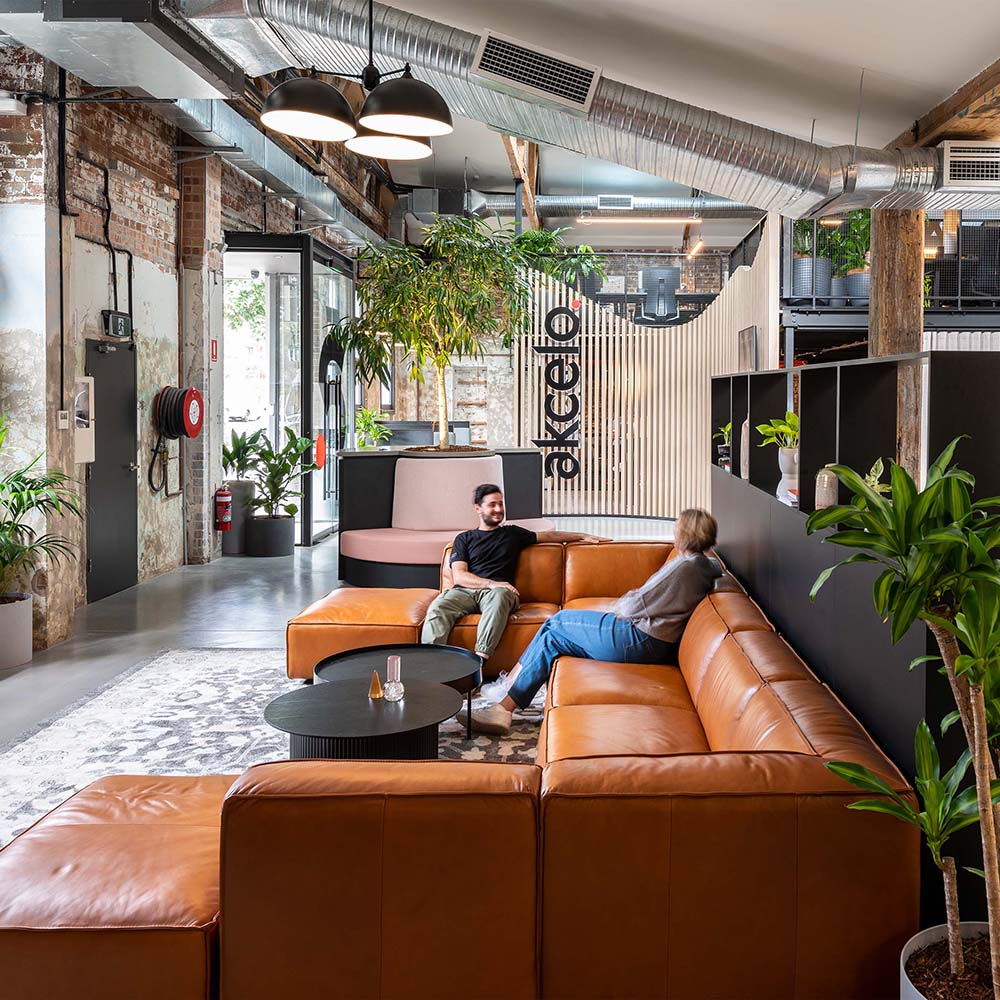 Workplace design for any budget
How we design to budget
We begin by discerning and identifying your wants and must-haves and prioritise based on the data we gather. We also use surefast insights from organisations in similar industries to ensure that these align with your project budget.
One of the many ways we ensure your design meets your budget is through smart design. This may mean limiting net-new Built Environment's or using the building's existing framework for the design concept, like we did for the team at Akcelo to create a unique yet cost efficient design outcome.
To avoid any delays on site, we stage and procure wisely so that things run simultaneously. In doing this, we effectively limited the amount of setbacks to the programme that otherwise may result in high, unexpected costs.
Our in-house Project Managers also help mitigate risk. Their experience and expertise with our process, and their familiarity with buildings in Australia and New Zealand diminishes the chance of surprise spending.
Additionally, we accommodate for future growth by offering schematics that showcase different potential layouts should your company change in size in the coming years. This minimises costs later down the line.
Our services are invaluable for landlords, too. We employ the entirety of our process to create spaces for any size tenant whilst making it easy to allow for future changes. This helps both landlords and their tenets by limiting costs, while, at the same time, making their space more appealing to encourage lease extensions.
How do we know when we've created the perfect workspace for your business?
We'll know we've struck a chord with your employees by the way they talk about their new office space, how they operate within it and experience their workday. And you'll know that you've made the right choice about a commercial interior design solution when you see a boost in morale, productivity and enthusiasm about your business. And we don't stop there — we're with you every step of the way.
At Cachet Group, we don't just create your space and hand over the keys. With every fitout, we offer responsive, full lifecycle support at your fingertips — helping you maintain and optimise your space into the future. That's why we developed the Cachet Care Program — tiered with our trusted partners and digital tools to bring best in class support. The Cachet Care Programme ensures that your space is adapting to your needs as they change; throughout your entire lease cycle.
Through our Cachet Care programme, we offer lasting support to ensure your space is always evolving to reach your objectives.
Need inspiration?
Get started with our Build Your Space tool. Choose from some of our best work and assemble a creative brief so we can hit the ground running with an interior space that you — and your employees — will be proud of.
Create a project board of key spaces and start your brief for your project. Select from over 10 years of our experience across all sectors to create a vision for your next project.